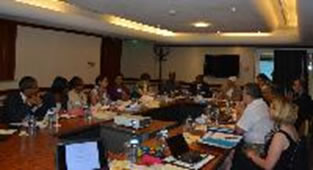 The Interfaith Initiative to End Child Poverty (IIECP) — the fourth Initiative by Arigatou International kicked off in Nairobi by holding its first Interim Steering Committee Meeting in Nairobi, Kenya from the 19th to 20th August 2013.
The meeting settled on 3 priority areas for the initiative which are to mitigate spiritual root causes of poverty, combat structural causes of poverty and fight child poverty.
The meeting brought together 16 participants from Arigatou International's staff based in Tokyo, New York, Geneva, Nairobi and other distinguished experts from India, Sri Lanka, Nepal, Switzerland and USA.
To achieve IIECP's desired objectives, the committee agreed on three priority thematic areas: Mitigating spiritual root causes of poverty (greed, ignorance, hatred and fear) through theological reflection and action; Combating structural causes of poverty through interfaith advocacy; and fighting child poverty by modeling replicable and sustainable grass root initiatives.
In addition, the committee endorsed four guiding principles for the initiative as follows; supporting child-centered initiatives,
Integrating positive religious values, promoting multi-faith/ faith inspired initiatives and cooperating with other existing programs from like-minded stakeholders.
A visit to ChemiChemi Ya Uzima (springs of life) clinic located in Kibera slums (which is one of the largest of its kind in Africa) gave the committee the opportunity to experience firsthand, an initiative that has similar goal as that of IIECP – which is to Mobilize Faith Inspired resources to End Poverty. The clinic offers medical services to the locals and in addition has a group sponsorship program that is currently supporting 30 children.
A common theme that emerged from the meeting was the need to maximize the comparative and competitive advantages of the faith communities, institutions and leaders while remaining child centered in approach.
Arigatou International is persuaded that extreme poverty is the greatest injustice of our times and that there are enough resources for everyone but simply unequally distributed.
IIECP is committed to mobilizing faith-inspired resources towards a world free of child poverty.