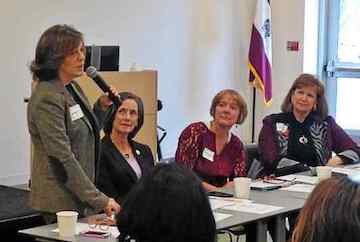 WHITPAIN – It wasn't until 2015 that the percentage of Montgomery County children living in poverty dropped back down to below the 2008 pre-recession level, Public Citizens for Children & Youth reported in its October 2016 "Left Out: The Status of Children in Montgomery County."
"Even so, we have 7 percent of the kids in this county in poverty," Donna Cooper, PCCY's executive director, said at a "Roundtable to Keep Montco Kids from Getting Left Out," held Tuesday, Feb. 14, by PCCY and the Bucks-Mont Collaborative at Montgomery County Community College's main campus in Blue Bell.
Other speakers at the roundtable, which had about 100 attendees, were Montgomery County commissioners' Chairwoman Dr. Valerie Arkoosh, Norristown Family Center Director Julie O'Connor and VNA Foundation of Greater North Penn Executive Director Joanne Kline.
The data for the PCCY report was from 2014, and some of the numbers have improved, Arkoosh said — Montgomery County has among the lowest unemployment rates and highest average wages in the state — but improvement is needed in other areas, including more access to affordable, high-quality child care, reductions in infant mortality rates and screening and treating children for lead paint exposure and poisoning.
To read full article by Bob Keeler in The Herald please click here.