Laws and policies significantly define and sustain gender norms by clearly establishing a country's national priorities and setting aside resources for their implementation. The policy environment in most conflict and post-conflict countries often lacks laws and policies aimed at addressing Gender Based Violence (GBV).
Advocacy against GBV aims at influencing decision makers to bring about change at policy and structural levels in order to bring sustainable change at social level.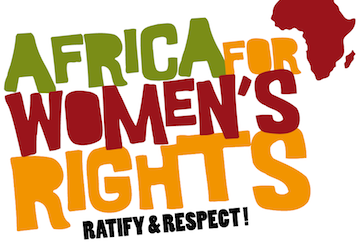 In Africa, there is a broad set of national and regional policies meant to make people's lives better – however with a poor rate of effective implementation. The Protocol to the African Charter on Human and People's Rights on Women's Rights (Maputo Protocol) adopted in 2003 is one of the most progressive international legislations preventing and protecting women from violence, together with the Istanbul Convention (2005) for Europe and the Bélem do Pará (1994) for Latin America. Its full implementation would put an end to GBV in the continent.
In light of the above, when consulted, REJADH youth opted to lead its first advocacy campaign entitled "Myth of Maputo" towards the ratification and implementation of the Protocol. Such legislations are usually unknown from the larger public and from (too) many decision makers. Hence, the network started by gathering knowledge on the state of ratification in the five countries, the legal value of the Protocol in each country and the position of decision makers regarding the said Protocol. They also gathered information about the position of influential religious leaders who are often main obstacles to the ratification and/or implementation of the text. The second and continuous step is to build positive dialogue with decision makers. In all countries, the network has been spending time and efforts in making the network and its objectives known and in getting support for their action and objectives from decision makers. In some countries, such as Burundi and the Democratic Republic of Congo (DRC), the members of REJADH have also been participating in the development of faith-based platforms for gender justice – known as Side by Side.
The network is currently in a phase of adapting its strategies to the specific context of each country with achievable objectives related to the regional campaign. Efforts are now being deployed to get commitments from relevant decision makers and to hold them accountable until the change sought is realized.