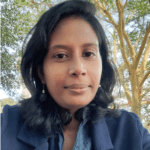 Manager, End Child Poverty Knowledge Centre
Hesha Lucknie Perera is currently working as the Manager at the End Child Poverty Initiative at Arigatou International. She oversees the End Child Poverty Knowledge Centre based in Sarvodaya, Sri Lanka, and ensures action-oriented information gathering and dissemination between the field experience and End Child Poverty global interventions.
She is also the Global Network of Religions for Children (GNRC) Sri Lanka Coordinator and leads Arigatou International's SDGs Academy for Children – Model Classroom – which teaches children Sustainable Development Goals and empowers them to act.
Her motivation to work with End Child Poverty is she believes in a world of justice and equal treat for all human beings living with respect which is their right. A world where children can grow up free of child poverty and dignity will make that world and education is the best investment for that.
Before she joined Arigatou International, Hesha served as a Sociologist in one of the Government Ministries of Sri Lanka and a Senior Associate in Room to Read and World Vision Lanka.
Hesha Graduated in Sociology from the University of Peradeniya and completed her Master's Degree in Regional Development and Planning from the Faculty of Graduate Studies, University of Colombo Sri Lanka.  She is specialized in Children's Education, Life Skills & Mentoring support, Social Research, and Development Studies with local and international training.