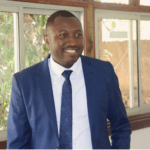 Michael Adikwu is an independent consultant on Sustainable Development passionate about creating safe physical and virtual spaces for children and young people to learn, grow and together build a better world.
He currently leads the Right to Sustainable Development Programme at Arigatou End Child Poverty with focus on the SDGs Academy for Children – a safe space and programme for children on Sustainable Development. In addition, he is the Focal Point for the Africa Interfaith Initiative on Agenda 2030 (also called Africa Faith Leaders Initiative – AFLI), mobilizing faith actors in Africa around the 2030 Agenda for Sustainable Development.
Michael received his Bachelor of Science (B.Sc.) Degree in Microbiology from University of Maiduguri, Nigeria, a Master of Art (M.A) in Development Studies from Mount Kenya University (MKU), Kenya and currently pursuing a Ph.D in Development Studies at same University. He has certificate of short courses in project management, policy advocacy, monitoring and evaluation, Human Rights Education, Democratic Citizenship, building construction and Property Management, and Global Development Education (GDE) from reputable training institutions including MS-Training Center for Development Cooperation (TCDC) Arusha, CORAT Africa, and The Network University (TNU), Netherlands.
He has published and edited training resources for faith actors in the field of Development including Guidelines for FBOs on Development Effectiveness Principles, Facilitators Handbook on Social Cohesion in The Sudan, and "Building Back Better" with faith actors as the path to COVID-19 recovery.
Mr. Adikwu is the founder of GROW-ON structurepreneurs; a social enterprise that provides physical space for development education, mentorship, and venture capital for young people.