When we arrived in the informal settlement of Methotamulla in Sri Lanka, we found Fathima Silmiya, a 16 year old girl preparing for her grade 11 exams. But Silmiya knows too well the uncertainty that lies ahead of her. "When it rains, our home gets flooded, my books are damaged and the environment stinks. This makes it difficult for us to go to school or even study at home," Silmiya explained. The same gory state of affairs is shared by many other school going children in the neighborhood of Methotamulla.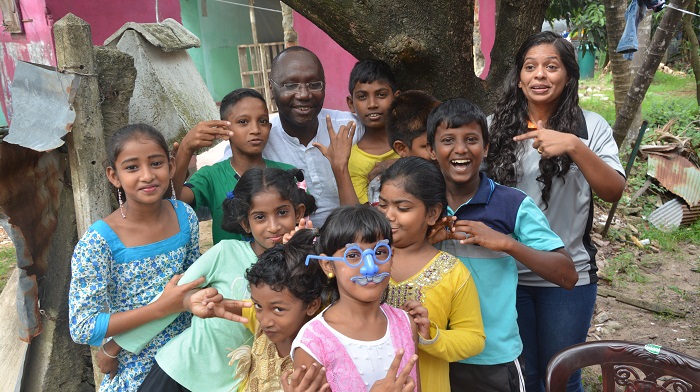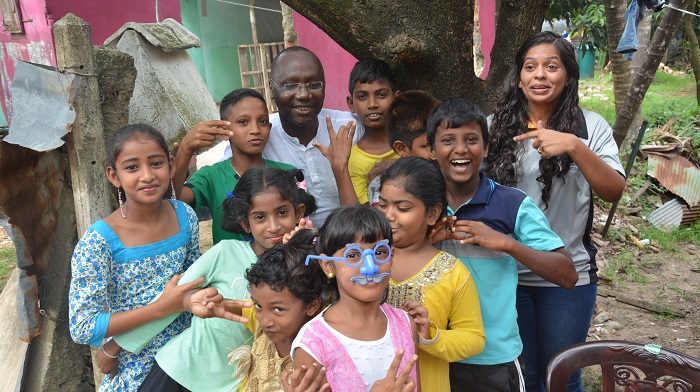 Mrs. P.D Rohini, a mother of 3 was also preparing for her children's school requirements come January 2019. She too is hopeful that it doesn't rain because if it rains, her preparations for her children would be futile or postponed for an unknown time. The informal settlement in Methotamulla is located downhill a huge infamous dumpsite that once suffered a landslide in 2014 that left about 38 lives lost. Whenever it rains, the area often floods, making it impassable. School going children are the most affected as they are unable to go to school. Worse still, the environment stinks when the rain water mixes with the garbage at the dumpsite.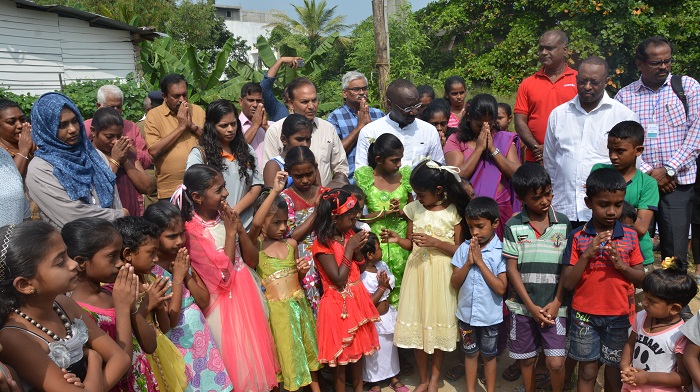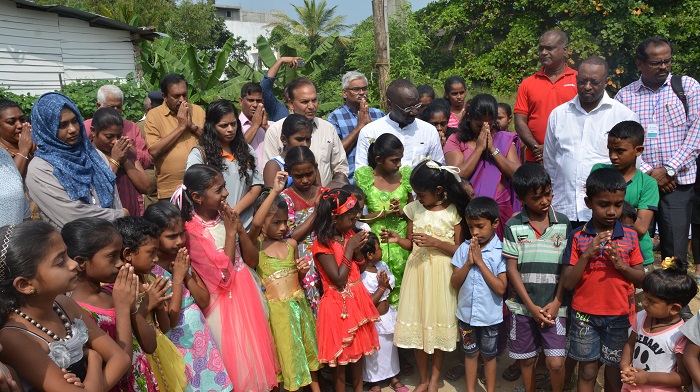 Children in Methotamulla will soon get a reprieve from such suffering, which has often been a stumbling block in their school life. Arigatou International – End Child Poverty in collaboration with the Sarvodaya movement have established a temporary education centre in the area. The temporary education centre was launched during the End Child Poverty and the Global Network of Religions for Children (GNRC) Southeast Asia Regional Meeting in Sri Lanka on 9 December 2018.Speaking during the launch, the director, Arigatou International – End Child Poverty was optimistic that the education centre would provide good education for the children and will allow the children to get skills and be empowered. "We believe that this is going to be a children's empowerment centre that all of us will be able to accompany in the coming future for the wellbeing of our children," he said.
The President of Sarvodaya movement on the other hand said the education centre would open a window of learning opportunities in the community. "The centre will provide both formal and informal education. Here, children will be able to learn good values such as kindness, love as well as grow spiritually," he said.
Children present during the launch welcomed with joy the establishment of the centre. They stated that the proximity of the centre to most of their homes will make it easily accessible for studies. The education centre will be a supplement school institution for most children as well as a school for those who are not attending any school at the moment. The temporary education centre comes with a unique component to respond to the flood disaster that often affects the area. It can be folded and moved to another location in case of such disaster in the area.
Arigatou International – End Child Poverty believes that education is one of the primary vehicles through which children can get out of poverty. Therefore, if children fail to get education perhaps because of conditions such as those in Methotamulla, then they risk living in poverty. With a core commitment to have a world free of child poverty, End Child Poverty, through such programs as the temporary education centre hopes to eliminate poverty in the world, especially in Asia, Sri Lanka in this case.