From 24 to 30 July, Initiatives of Change in cooperation with Child-to-Child Trust organized in Caux, Switzerland a conference titled Children as Actors for Transforming Society – Making Children's participation work.  Arigatou International was invited to participate on the panel Safe Environment for Children that addressed how to strengthen children's participation to ensure a safe environment.
The panel took place on the 28th July with the participation of Ms. Alana Kapell, Child Protection and Participation Specialist, Office of the Special Representative on Violence Against Children, Ms. Camille Warrington, Young People's Participation Development Officer, University of Bedfordshire, and Ms. Maria Lucia Uribe, Director Arigatou International Geneva.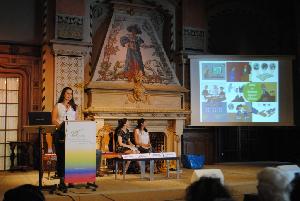 Ms. KapellMs. Kapell described the work of the office of the Special Representative on Violence Against Children and highlighted the important work the office promotes to engage children as active participants in learning about their rights and raising awareness about violence that affects them or other children.  She spoke how their work is supported through research, strategic planning, resource development and advocacy.
Ms. Warrington discussed the role of social workers to support children and youth's full participation, particularly of those most vulnerable, and addressed how social services very often reproduce the power imbalances that children are victims of in their daily life. Through concrete examples and the voices of youth, she underlined that participation is more effective to unlock child protection; as it challenges the culture of silence, it builds on children's access to knowledge and enhances services ability to protect children.
Ms. UribeMs. Uribe addressed children's safety not only from the protection point of view, but from a development stand and argued that by creating a safe environment for children that considers not only their physical and emotional safety but also their environment, cognitive and spiritual safety, children are empowered to fully participate in society and help transforming the many issues that affect them.  Ms. Uribe framed her presentation around the understanding of human dignity and challenged the way safety is perceived and treated, just as a mere component against direct violence. She spoke about structural and cultural violence and underlined the importance of developing critical thinking in children to avoid indoctrination and manipulation; Ms. Uribe also stressed the importance of nurturing children's innate spirituality that allows them to thrive, break the fear of relating to the other, to speak up and to ask questions. She Introduced the Learning to Live Together Programme of Arigatou International and through examples of children's participation explained how the programme supports the creation of a safe learning experience for children allowing them to strengthen their sense of belonging, to be, become, connect and transform.
To read more about the conference click here
To download Arigatou International's address presented by Maria Lucia Uribe, click here.