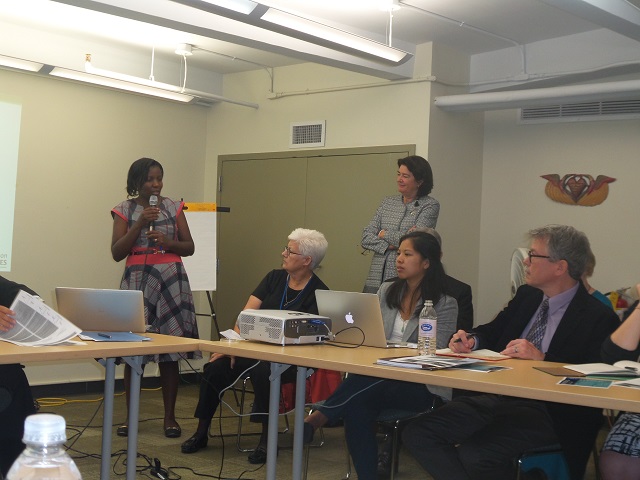 Arigatou International's, End Child Poverty initiative Director Rev. Fred Nyabera,on Thursday, September 22, attended the 2nd Convening of the Moral Imperative to End Extreme Poverty by Faith Based groups working at the United Nations Social Justice Commission Auditorium, in New York and realized the Sustainable Development Goals.
Moral Imperative began in February 2015 when a group of faith-based leaders met with World Bank President, Jim Yong Kim to discuss ways to end extreme poverty by 2030. The group of faith based leaders agreed to develop a statement that would build on their shared belief, commitments and shared convictions. The statement was entitled "End Extreme Poverty: A Moral Spiritual Imperative ", launched in April 2015 and endorsed by over 30 global faith based organizations.Sustainable Development Goals are viewed by the group as a framework around which to discuss moral, theological and practical approaches.
The 2nd Convening of the Moral Imperative to End Extreme Poverty included a Policy Dialogue on Religion and Faith, Refugees and Forced Migration.The group chose two potential major areas for advocacy work on both international and grassroots levels: land and water rights, and violence against children. In addition the group discussed how violence against children is related to child marriage, child labour, unjust relationships, and power dynamics between different societies and different individuals.
The Advocacy Working Group discussed how rural poverty becomes even more concentrated when the land or water is under threat. Climate change and economic inequality are also increasingly seen as factors of poverty.
Participants discussed the implications of policy conversations for religious engagement in response, the role of faith-based organizations serving refugees, and opportunities to increase engagement with local faith networks.
For more information on the Ending Extreme Poverty: A Moral and Spiritual Imperative and Sustainable Development Goals kindly visit our website and Social Media sites on facebook and Twitter