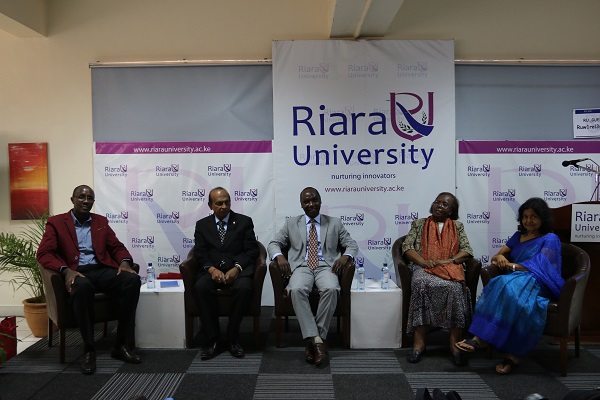 As a logical follow-up to the Global Network of Religions for Children (GNRC) 5th Forum who's focus was Ending Violence Against Children, Arigatou International – Nairobi participated in a workshop on the rights of the child to commemorate the Day of the African Child on 10th June 2017 at Riara University, Nairobi – Kenya.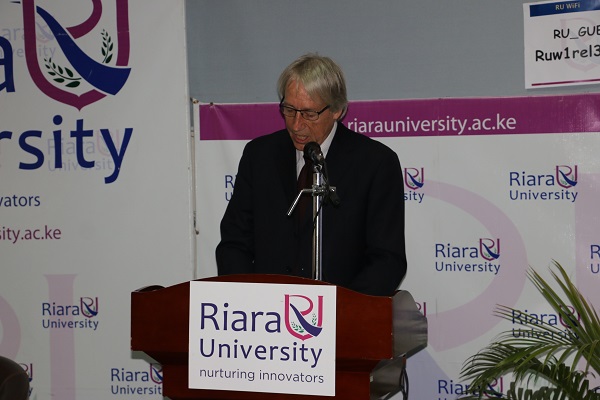 Addressing the workshop delegation, Mr. Thiery Meyrat (Left), International Committee of the Red CrossThe Day of the African Child has been celebrated on June 16th every year in honor of those who participated in the uprising in Soweto, South Africa in 1976. To mark this important day, Arigatou International – Nairobi joined the Sri Lanka High Commission in Kenya and the Riara University for a half-day celebration and reflections in honour of the African Child under the theme: Accelerating safe spaces for Children in Kenya; Opportunities and Challenges. A special focus was given to the challenges and opportunities facing the boy and girl child in the family, school and the society growing environment and best ways to invest in the Child as a way of leaving no child behind towards sustainable development.
In attendance representing Arigatou International during the workshop were; Fred Nyabera – Director Arigatou International, Rev. Wachianga – Director Amani Village of Hope, Mr. Kissinger from The Cry of a Young One (GNRC Kenya), Ms. Obed – Childs Life Kenya (GNRC Kenya).
Addressing the workshop delegation, H. E. Chulpadmendra Dahanayake (Right), Sri Lanka High CommissionerIn his presentation during the workshop, Mr. Nyabera shared on the brutality and unforgiving nature of child poverty – it is the main underlying cause for millions of preventable child deaths each year. It is also the cause of tens of millions of children going hungry, missing out on school, or being forced into child labor, with little access to shelter and health facilities. It is not possible to end child poverty if violence persists. "We must put an end to violence against children," he said.
Key speakers were; Prof. Robert Gateru; Vice Chancellor, Riara University, H. E. Chulpadmendra Dahanayake, Sri Lanka High Commissioner; Her Excellency Ambassador Ms. Sahle-Work Zewde, Director General of UNON, Her Excellency Ms. K.A Mqulwana, High Commissioner for South Africa; Dr. Hiranthi Wijemanne, Founder of the National Child Protection Authority of Sri Lanka; Mr. Thiery Meyrat, Head of Regional Delegation, International Committee of the Red Cross; Dr. Phyllis Onyango, Reginal Director ANPPCAN and Ambassador Simon Nabukwesi.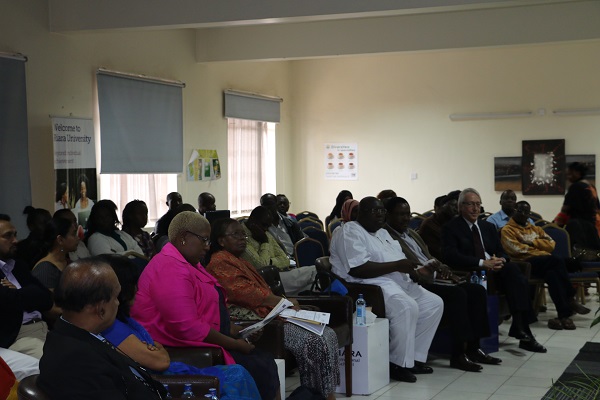 The workshop concluded with speakers and those in attendance realizing the urgency to work with and for children to create a better world for them through partnerships and solidarity. Children are indeed endowed with gifts and special abilities and it is important that they are placed in environments where they can thrive and discover themselves. The impact of poverty on children is often irreversible. This should underline the urgency and focus required to end child poverty, as we relentlessly work towards ending all violence against children.
Arigatou International is committed to and will continue working to fulfil the promises of the GNRC 5th forum declaration and we invite all to join us as you share with us what you are doing in your community in line with the Forum Declaration on Facebook or Twitter.