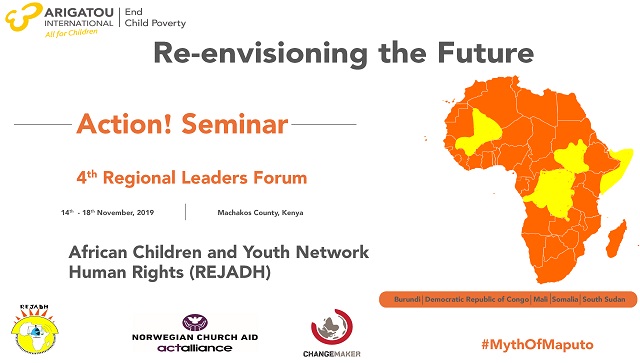 Arigatou International — Nairobi together in partnership with the Norwegian Church Aid (NCA) and Changemaker-Oslo, will host the African Children and Youth Network for Human Rights / Réseau des Enfants et Jeunes Africains pour les Droits Humains (REJADH), Action! Seminar from 14th – 18th November 2019, in Machakos County, Kenya.
The 2019 Action! Seminar presents opportunity for capacity building, among REJADH youth. This seminar forms part of our broader work to end violence against children, by advocating for the reduction, prevention and elimination of Gender Based Violence (GBV).
The 2019 Action! Seminar aims to re-envision the future of REJADH through capacity building, experience sharing. The seminar will involve provoking presentations from the different REJADH teams.
You too can join the Action! 2019 conversation using #MythOfMaputo