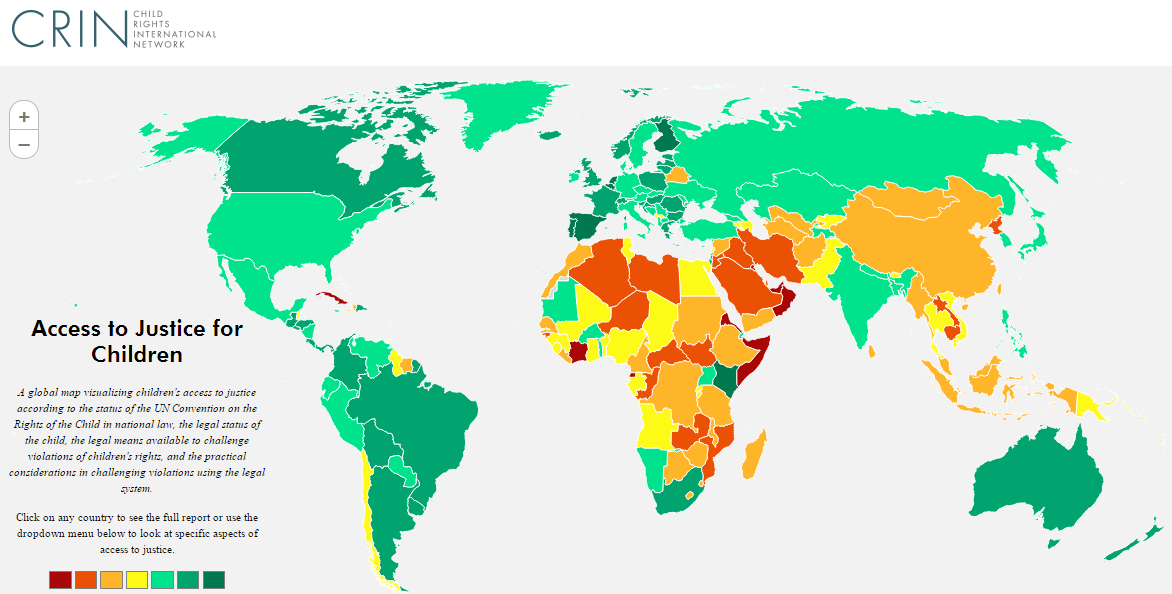 The first ever Global Rank on Access to Justice for Children was released yesterday, 15 February 2016, by the Child Rights International Network (CRIN). According to CRIN, it analyses and measures how effectively children can use the law to challenge violations of their rights, based on the UN Convention on the Rights of The Child.
Belgium takes the lead, followed by Portugal and Spain respectively; with Palestine, Eritrea and Equatorial Guinea trailing at the bottom of the index. Kenya and South Africa are the only countries in Africa to register at top 20, with Kenya taking the 7th and South Africa, the 12th rank. Mexico ranks at 42, ahead of the United States. Argentina, Israel and the Philippines lead in South America, Middle East and Asia, ranking at 11, 30 and 58 respectively.
As reported by the Child Rights International Network (CRIN):
"Access to justice is about challenging the perception of children as just victims or somehow less worthy of justice than adults. It is about recognising that children, like adults, have human rights and that when these rights are infringed they should be able to trust and use the legal system to get justice", said Veronica Yates, Director of CRIN.

The Chairperson of the UN Committee on the Rights of the Child, Benyam Dawit Mezmur, stated, "Country rankings are not just there to highlight who is doing well and who is doing poorly but more importantly they have the ability to stir States to action, prompting them to improve and claim a spot higher on the ranking ladder.
Arigatou International is a member of the CRIN, through Child Rights Connect. We are a global, faith-based, NGO committed to building a better world for children. We recognise that child poverty and children's access to justice are closely related issues. Through our Global Network of Religions for Children (GNRC), we have presence in 70 countries including Belgium, Portugal, Spain, Kenya and Argentina, where we work to promote the dignity and wellbeing of children.
Learn more about our work in these and more countries, here.
For more information on the global rank, and to view the complete global ranking and its access to justice interactive map, please visit Child Rights International Network (CRIN) website.