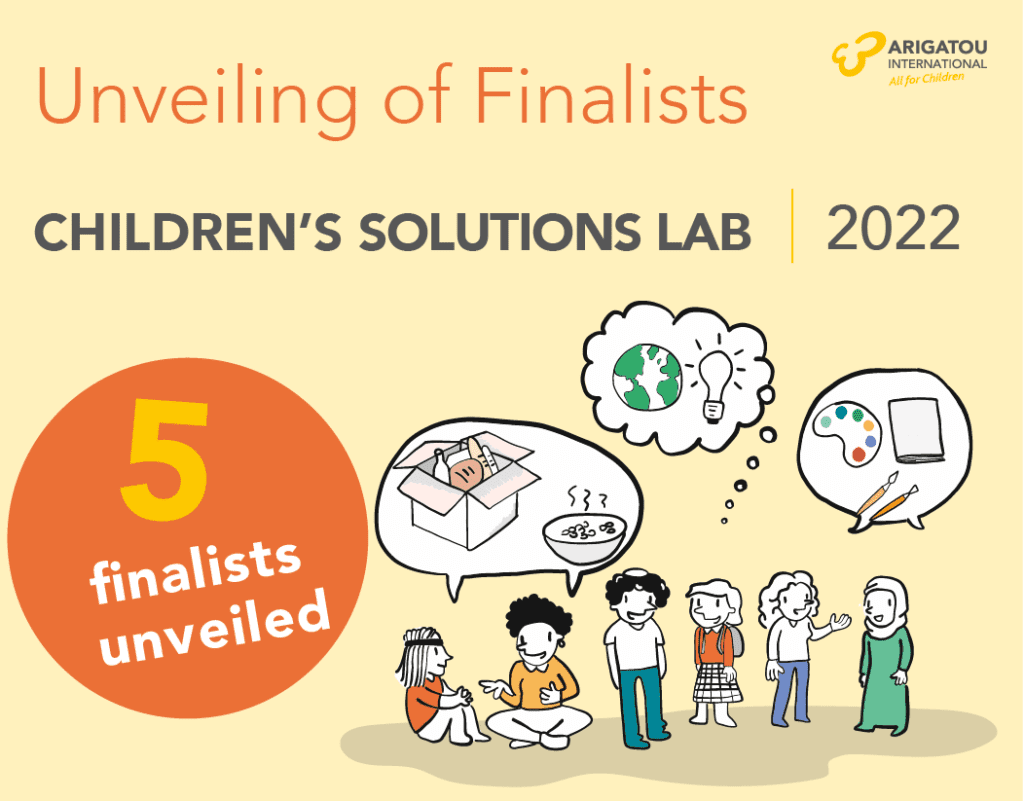 The finalists of the 2022 Children's Solutions Lab were unveiled on Friday, 29 July 2022 in a virtual session with the children and their accompanying adults. The finalist groups were: "Home of the Sun" from Armenia, "Turma do Passaporte para a Vida" from Brazil, "My Rights, My Future" from Ghana, "The Inspired Children's Club" from Malawi, and "Club d'Anglais du CES RD1" from Niger.
These five finalists were selected among other 88 applicants from 30 countries world over. Applications were open between March 1 and April 15, 2022, inviting groups of at least four children to submit projects led by them that could propose context-sensitive and unique solutions to poverty affecting children in their communities.
The projects were expected to address the ethical challenges and the cultural norms that can lead to poverty and suggest solutions based on education. While the solutions and their implementation are led by children, adults from the groups/organizations were encouraged to be available to support them.
The applications went through a competitive international evaluation process. Here is a glimpse into what they submitted and plan to do to alleviate child poverty through education-oriented solutions:
"Home of the Sun" from Armenia proposed to help harvest fruits and vegetables from their local village. In turn, they would earn from the harvests and further add value to the fruits and vegetables by canning them. According to "Home of the Sun" This solution demonstrates how children can creatively earn and support the consumption of healthy foods; thus addressing poverty by supporting the nutritional needs of families.
The lack of basic sanitation is a fairly common social problem in Brazil, which in turn affects children in situations of social vulnerability. Children are often contaminated by dirty water, leading to a series of diseases such as typhoid and dysentery that compromise the body and cognitive development, potentially putting their future at risk. "Turma do Passaporte para a Vida" came up with an idea centered around the cleaning of the sewage system. They intend to build a pipeline that will then connect to another pipeline in their neighborhood station nearby which then treats the sewage, enabling the consumption of safe water.
"My Rights, My Future" from Ghana identified a cycle of poverty associated with teenage pregnancy as a result of a lack of education in schools and the community on teenage pregnancy. The group seeks to educate their communities against teenage pregnancy by encouraging the education of all children as a means to alleviate poverty. This project seeks to take the education out of the classroom directly to the doorsteps of over 500 children who are otherwise likely to also become victims. Unlike previous interventions in their community, this solution will involve children out of school -who are most affected, to also be part of the solution to ensure maximum impact.
The "Inspired Children's Club" from Malawi came up with an idea focused on introducing a mobile school for the street children which will have a cart, learning materials and food. This mobile cart is expected to provide education for street children that are willing to learn and be later integrated into formal learning institutions, after receiving the necessary counseling and education. The Inspired Children's Club will carry out an income-generating activity such as gardening and tree seedlings cultivation to help the environment by reducing deforestation. This activity will aid in the provision of the necessary materials for the mobile schools.
Troubled by the difficulties that over 1,585 school girls go through due to the lack of a toilet, especially during their monthly periods, "Club d'Anglais du CES RD1" from Niger proposed to construct a toilet for girls in a school in Niamey, Niger.
"Our project intends to raise awareness among the girls through the distribution of documents on menstrual hygiene, to organize training workshops in the manufacture of sanitary napkin kits for girls in the sixth and fifth grades and to build toilets for them" explained Kadri Hima, the accompanying adult in the project.
The project is hoped to improve the health of young girls and fight against infections linked to poor menstrual hygiene. Furthermore, it will enable girls to stay in school as long as boys and will preserve their dignity and significantly improve their education through regular attendance of school.
While congratulating the five groups, Fred Nyabera, Director of Arigatou International-End Child Poverty expressed the organization's commitment to walk with the children in implementing their ideas and even in further endeavors aimed at alleviating poverty.
"We celebrate you and celebrate with you and commit to walk with you as you move along," he said.
Similarly, Maria Lucia, Director of Arigatou International-Ethics Education for Children lauded the children as examples of the many voiceless children across the world.
"You are examples of other children in the world whose voice cannot be heard," she said.
First launched in 2020, the Children's Solutions Lab is one of Arigatou International's meaningful spaces for child participation, whose aim is to support young people in taking action to address poverty affecting children in their communities through solutions based on education.
The Children's Solutions Lab seeks to promote ethical reflections among children about the root causes of poverty and how some cultural norms can impact the wellbeing of children and, ultimately, lead to child poverty. Congratulations to the finalists!