Arigatou International GLOBAL WEEK – Report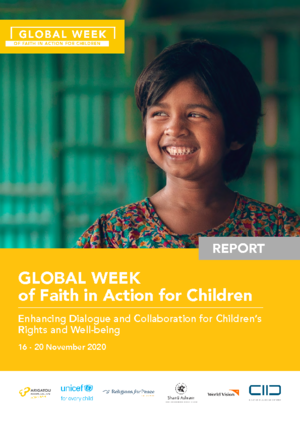 More than 1,700 children, youth, and adults from diverse cultural, ethnic, and religious backgrounds gathered at the GLOBAL WEEK of Faith in Action for Children, held online from 16 to 20 November 2020.
The GLOBAL WEEK was organized by Arigatou International, in collaboration with KAICIID Dialogue Center, Religions for Peace, Shanti Ashram, UNICEF and World Vision International; and with the support and participation of 64 global, regional, and local partners.
With 25 live sessions in five languages, the GLOBAL WEEK of Faith in Action for Children was a unique opportunity for children, youth, and representatives from different sectors of society to come together to propose joint actions and compelling responses to address the underlying issues that impact children's well-being, and enhance their participation in matters that concern them, with particular focus on the impacts during and post COVID-19.