ECP Director's Statement – IDEP 2019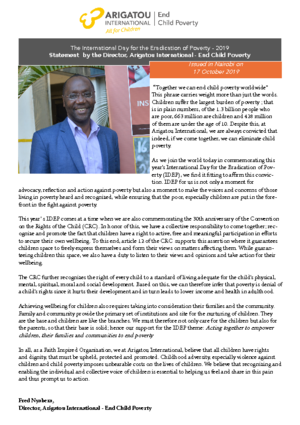 "Together we can end child poverty worldwide" This phrase carries weight more than just the words. Children suffer the largest burden of poverty[1]; that is in plain numbers, of the 1.3 billion people who are poor, 663 million are children and 428 million of them are under the age of 10. Despite this, at Arigatou International, we are always convicted that indeed, if we come together, we can eliminate child poverty.
As we join the world today in commemorating this year's International Day for the Eradication of Poverty (IDEP), we find it fitting to affirm this conviction. IDEP for us is not only a moment for advocacy, reflection and action against poverty but also a moment to make the voices and concerns of those living in poverty heard and recognized, while ensuring that the poor, especially children are put in the forefront in the fight against poverty.