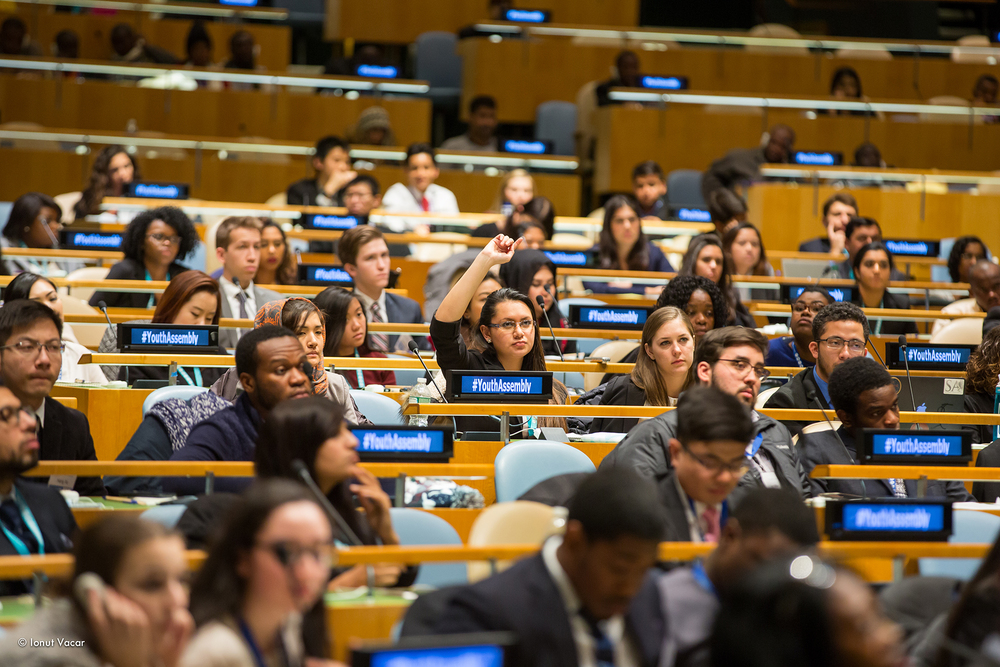 Launched in 2004, the Winter Youth Assembly takes place at the United Nations Headquarters twice a year and gathers the brightest and most active young leaders from across the globe to tackle our world's greatest challenges.
This years 2017 Youth Assembly, held at the United Nations brought together approximately 1,000 young leaders and professionals from around the world, UN officials and diplomats, and representatives from intergovernmental and nongovernmental organizations to tackle young people's role in realizing the 2030 Agenda for Sustainable Development.
Under the theme "Realizing the 2030 Agenda: Youth in Action", the conference explored multifaceted global issues such as poverty, education, and sustainable consumption and production, with an emphasis on the integrated nature of the Sustainable Development Goals (SDGs). The conference also brought to the fore contemporary discussions on youth's role in policy-making, present-day humanitarian crisis, and their impacts on global development
Arigatou International was represented during the youth forum by Ms. Masue Suzuki, Program Officer, Arigatou International who facilitated one of the session on ways in which young people can be empowered to make a lasting difference in ending child poverty by raising awareness about child poverty in their communities and countries and engaging through mobilizing them via faith-inspired resources. Arigatou is working on finding methods to transform youth ideas into solutions.
"Poverty is indeed the greatest global challenge facing humankind today. It presents an unbearable injustice to those who experience it. Eradicating extreme poverty should be humankind's primary priority today. No one, and in particular children, should live in poverty." – Rev Fred Nyabera, Director, Arigatou International, End Child Poverty.
The deliberations provided a conducive space for youth participants to contribute to a Youth Plan of Action whose aim is to capture and elevate youth voices in realizing the 2030 Agenda. Notably the SDGs provide a roadmap towards sustainable solutions. These solutions include: monitoring and measuring data regularly regarding child needs and find target entry points for interventions, improve access to social services: nutritious food, healthcare, water, sanitation, and education, implement social protection measures that help children overcome poverty and deprivation and become more resilient, ensure growth is inclusive and that decent employment opportunities exist for all in order to build a fulfilled life for families and children.
For the first time, the global community has recognized the centrality of children to address global poverty. As part of the new SDGs proposed to end poverty, the new agenda aims to eradicate extreme poverty and reduce at least by half the proportion of men, women and children of all ages living in poverty in all dimensions by 2030. This session highlighted why children are crucial in the fight against global poverty, and it also organized a range of group activities to support youth to raise awareness and take action in their communities and countries to end child poverty in all its dimensions key deliberations included;
Need to give children a voice that has real influence, and amplify those currently unheard.
Child Poverty is universal, from the poorest to the most wealthy nations. Assumptions should not make children invisible.
Child focused programming must become more adaptive, inclusive and participatory if it is to meet the needs of children.
Measuring and monitoring child poverty is difficult and needs to improve if we are to understand the true complexity of child poverty across different contexts.
Youth must be increasingly engaged with to transform their ideas into best fit solutions.
More of the proceedings can be found here.