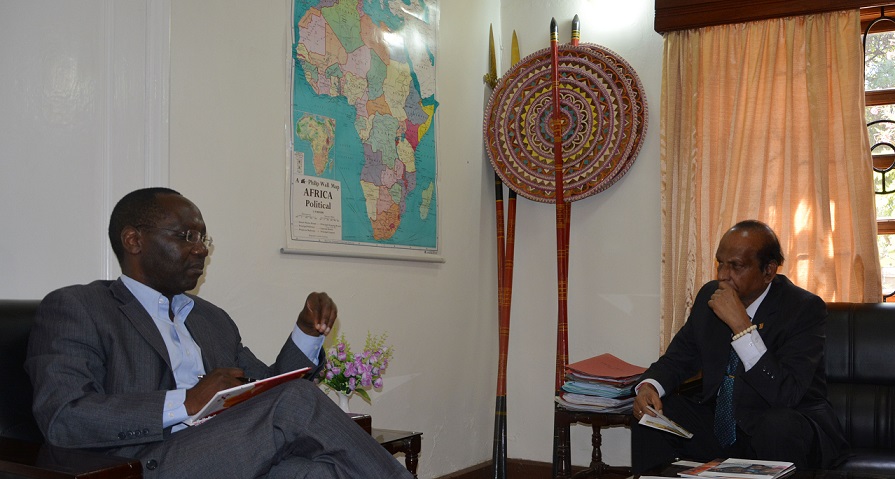 The ties between Arigatou International—Nairobi and the High Commission of the Democratic Socialist Republic of Sri Lanka in Nairobi, Kenya, were strengthened after a courtesy visit between the two. Fred Nyabera, Director, End Child Poverty, Arigatou International—Nairobi, met with the High Commissioner, H.E. Mr. Chulpathmendra Dahanayake, in a bid to enrich collaboration between Arigatou International—Nairobi and like-minded leaders, towards the eradication of child poverty.
The meeting occurred at the cusp of Arigatou International's visit to Sri Lanka, to strengthen its End Child Poverty Knowledge Centre, based in Sarvodaya,Moratuwa. During his visit to the High Commission, Rev. Nyabera briefed H.E. Mr. Dahanayake on Arigatou International's global work through four of her interfaith initiatives: End Child Poverty, Ethics Education for Children, Prayer and Action for Children, and the Global Network of Religions for Children (GNRC).
In addition, possible partnership between the High Commission and Arigatou International—Nairobi was explored, on invitation by H.E. Mr. Dahanayake's to work together in safeguarding a future for children and preventing violence against children, globally and locally.

Arigatou International is a global, faith-based, NGO committed to building a better world for all children, with global offices in Tokyo, Geneva, New York and Nairobi. We value partnerships which positively impact the lives of children.
Get to Know More #AllForChildren