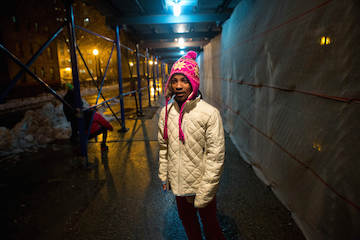 She wakes to the sound of breathing. The smaller children lie tangled beside her, their chests rising and falling under winter coats and wool blankets. A few feet away, their mother and father sleep near the mop bucket they use as a toilet. Two other children share a mattress by the rotting wall where the mice live, opposite the baby, whose crib is warmed by a hair dryer perched on a milk crate.
Slipping out from her covers, the oldest girl sits at the window. On mornings like this, she can see all the way across Brooklyn to the Empire State Building, the first New York skyscraper to reach 100 floors. Her gaze always stops at that iconic temple of stone, its tip pointed celestially, its facade lit with promise.
"It makes me feel like there's something going on out there," says the 11-year-old girl, never one for patience. This child of New York is always running before she walks. She likes being first — the first to be born, the first to go to school, the first to make the honor roll.
Even her name, Dasani, speaks of a certain reach. The bottled water had come to Brooklyn's bodegas just before she was born, catching the fancy of her mother, who could not afford such indulgences. It hinted at a different, upwardly mobile clientele, a set of newcomers who over the next decade would transform the borough.
To read the full article and view all the images on the New York Times, click here.