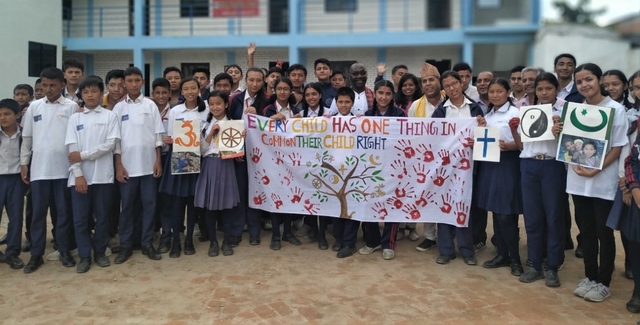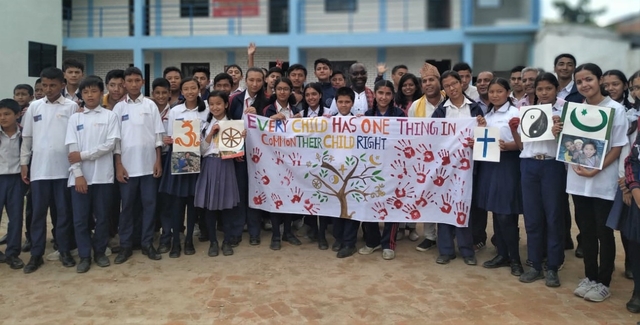 The second phase of the Nepal Poverty Solutions was inaugurated in Dang, the Western part of Nepal. The initiative is expected to reach to over 500 children in the region, through the 10 child ambassadors selected during the inauguration.
While attending and leading the inauguration, Fred Nyabera, Director, Arigatou International – End Child Poverty, termed the Nepal Poverty Solutions as a great move and demonstration of the effectiveness of children-led initiatives towards ending child poverty. He lauded the model for its strong emphasis on saving and community service.
"At Arigatou International we believe in listening to children's voices and their active participation"- Fred Nyabera, Director, Arigatou International – End Child Poverty.
The inauguration organized by Ms. Kriti Giri, the program coordinator of Shanti Sewa Ashram (Peace Service Center), comes amid successful implementation of the program in Kathmandu, Nepal's capital.
The Nepal Poverty Solutions has been in progress in Nepal since 2017 and is run by the Shanti Sewa Ashram (Peace Service Center), a member of the Global Network of Religions for Children (GNRC). The initiative has largely focused on provision of education to children through scholarships. Here, children have a traditional saving mechanism where they save money in small gourd-shaped containers (piggy banks) and after a certain period, collect the money which later is used to sponsor vulnerable children within the region. For example, in its pilot in 2017, NRS. 15,000 was collected and was used to sponsor 5 children from the Hindu Vidyapeeth Schools (HVP).
Nepal Poverty Solutions is one of the strategic high impact programs being supported by Arigatou International – End Child Poverty. It has been replicated from the India Poverty Solutions in, India.
Launched in Coimbatore, 2012, the India Poverty Solutions has grown to other states in the region including: Delhi, Mumbai, Bangalore and Kerala, with plans underway to replicate it in Pondicherry. After successful implementation of the India Poverty Solutions (run by our partners, Shanti Ashram, India), an international practicum for innovative solutions to end child poverty was organized by Arigatou International – End Child Poverty and Shanti Ashram in 2017 where the GNRC members from Nepal, Malaysia and Sri Lanka participated. The visit aimed at providing practical experience through field visits and interaction with successful India Poverty Solution implementers. It is through this learning visit that Nepal Poverty Solutions was born.
The basic premise of the Poverty Solutions spins around the axis of – for the children and by the children. This therefore lies squarely within the Panama Commitment 1 on 'Listening to Children' The initiative also partly responds to article 12 of the Convention on the Rights of the Child (CRC) on the right of the child to express themselves freely.