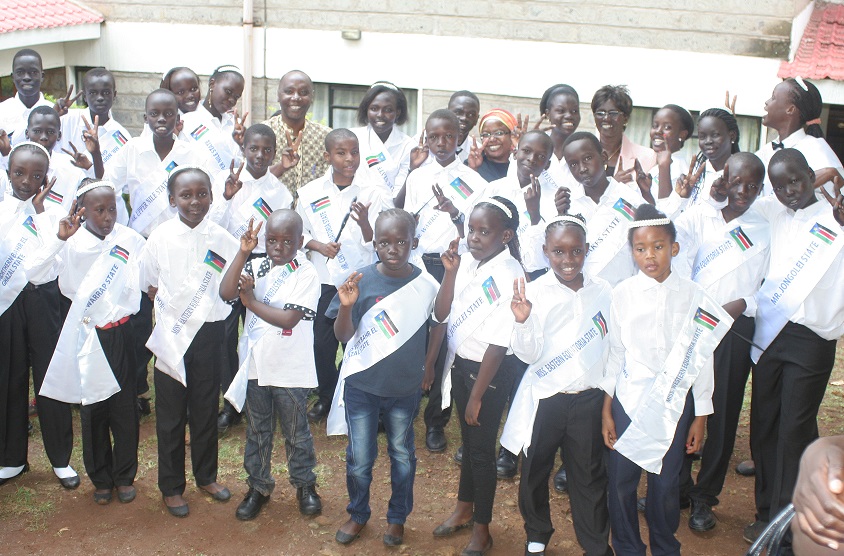 End Child Poverty partnered with the Umbrella of South Sudan Women Association in Kenya (USSWAK) in commissioning 42 children from each of the 10 states of South Sudan who reside in Kenya as Peace Ambassadors.
This was during the launch of Phase One Implementation of the USSWAK Children's Peace Ambassadors Project held on 2nd May 2015 at the YWCA (Young Women's Christian Association) headquarters. The project aims at equipping children as co-workers in transforming the violent conflict in South Sudan and becoming builders of peace. It also seeks to inculcate positive values of citizenship, faith and culture, in the children; through the mentorship of parents, guardians and other supportive adults
Rev. Fred Nyabera, Director, End Child Poverty – Arigatou International, headed the Nairobi event as the guest of honour, where he encouraged the children. "From today henceforth you will be representing children from your states, country, continent and the entire world in their pursuit for peace" he said.
Ms. Christine Jumi, Chairperson, USSWAK, acknowledged and appreciated the role of parents in helping their children embrace peace. Also present as guests were Bishop Andrew Wawa of African Inland Church (AIC) Highrise Community Church and Ms. Nyambura Gichuki, End Child Poverty Programs Officer.
As part of the launch, Rev. Nyabera, together with Ms. Jumi and Bishop Wawa, presented certificates of acknowledgement to each of the children Peace Ambassadors
Each child peace ambassador gave a message of peace challenging the leaders of South Sudan, their fellow countrymen and the world at large, to work towards restoring peace in South Sudan.
"I am waiting for my dad, my mum. But they are not here. They are in South Sudan, waiting for peace" – Child Peace Ambassador.
{zphotos::49}