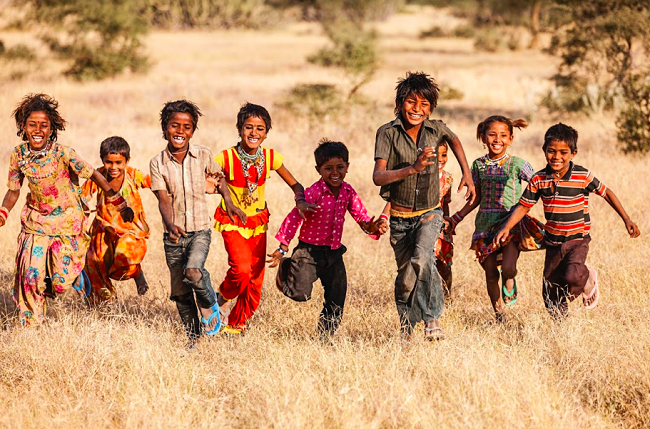 The International Day for the Eradication of Poverty (IDEP), 17 October 2019, is an opportunity for advocacy, reflection and action against poverty.
IDEP is an important day to ensure that the voices and concerns of those living in poverty are heard and recognized, while empowering the poor, especially children, to be at the forefront in the fight against poverty. This year's global IDEP theme is:
Acting together to empower children, their families and communities to end poverty.
Together with our partners, IDEP provides us the platform to rally concerted efforts towards elimination of child poverty worldwide. We accomplish through our campaign – Together We Can End Child Poverty Worldwide – which runs throughout the month of October, with special emphasis on IDEP.
Through this campaign, we foster empowering spaces to listen to children, by mobilizing communities to facilitate interaction and enable children to share their views on issues affecting them, as well as possible solutions. We encourage people worldwide to share their stories of change and the challenges they face in their work towards ending child poverty. We will also run the 3rd End Child Poverty IDEP photo contest, inviting communites to showcase how they empower children and life of an empowered child.
It is significant to note that this year's IDEP comes at a time the world will be marking the 30th anniversary of one of the global landmark treaties – the Convention on the Rights of the Child (CRC). This Convention recognizes the right of every child to a standard of living adequate for the child's physical, mental, spiritual, moral and social development. Poverty hurts children's development and, in turn, leads to lower income and health in adulthood. When child poverty is recognized as a denial of children's human rights then people in positions of responsibility and power are legally bound to promote, protect and fulfil children's rights.
We believe that every child has a right to live free of poverty.We invite you to join us in celebrating International Day for the Eradication of Poverty (IDEP), on 17 October 2019. Find out more, here.