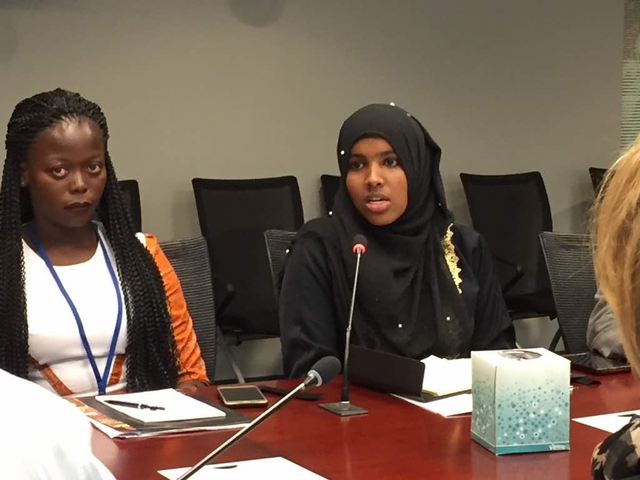 "I believe when someone is educated, they have the right and ability to stand against any form of injustice", says Benazir Yusuf Mohamed, one of the winners of the 2018 World Bank #Blog4Dev contest from Kenya.
Twenty two year old Benazir, a youth network leader of Arigatou International—Nairobi's Regional Peace Programme, emerged as a winner after participating in the 4th edition of World Bank #Blog4Dev Competition. The competition gave youth between 18 – 28 years from Kenya, Rwanda and Uganda, a platform to share their views and offer lasting solutions to the challenge, "What it will take to end gender-based violence in your country?"
In her blog, Benazir emphasized the use of education to end gender based violence and spoke about the same, during the contest winners' participation in the World Bank/IMF Spring Meetings, Washington DC, April 16th – 22nd 2018. Asked about what winning the competition meant to her, Benazir said:
"This has been the best opportunity I have had to attend a high-level meeting where different delegations from different countries have attended to discuss issues that affect young people, especially women, and provide solutions.

It has given me a platform to share my ideas and experiences on how to end gender based violence, as well as exposure to different ways used to mitigate the challenges in eliminating the vice.The platform has given me an all access to fuel discussions on how to end GBV and network with young leaders from different countries".
Benazir wears several hats of success – a student, teacher and a coordinator of a Community Based Organisation(CBO), Silver Lining Kenya, in the North Eastern part of the country. Through her work, she aims to improve the lives of the pastoralist community, by advocating for the dignity and rights of girls and young women. Her focus has been on addressing the plight of girls facing Female Genital Mutilation (FGM), a prevalent form of gender based violence in her community.
End Child Poverty is particularly proud of the work of Benazir and other young leaders whom, through our Regional Peace Programme, are mentored, trained and supported in implementing projects that advance peace and end violence.
Here are Benazir's thoughts on Ending Gender Based Violence : https://bit.ly/2Fd53pm and http://bit.ly/2Ja5DXh