Katherine Marshall has worked for four decades in international development with a focus on issues facing the world's poorest countries. She is currently a senior fellow at Georgetown's Berkley Center for Religion, Peace and World Affairs and Visiting Professor in the School of Foreign Service, where she enjoys the gift of working with the next generation.
Before coming to Georgetown, Marshall worked for 35 years at the World Bank. Among her many assignments she was Country Director in the World Bank's Africa region, first for the Sahel region, then Southern Africa. Before that she was country division chief in Latin America and agriculture chief in Eastern Africa. She led the Bank's work on social policy and governance during the East Asia crisis years. From 2000 – 2006, she was counselor to the Bank's president on ethics, values, and faith in development.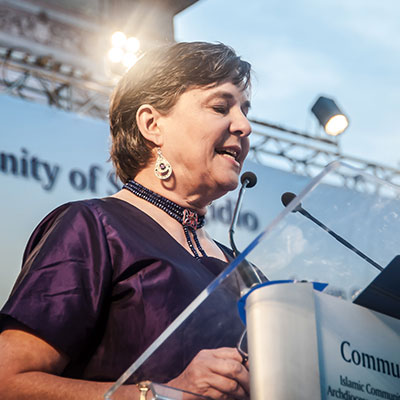 Marshall was involved in the creation and development of the World Faiths Development Dialogue and is its Executive Director. She has served on two international prize committees, the Opus Prize Foundation and the Niwano Peace Prize Foundation, and chairs the board of the World Bank Community Connections Fund. She was a core group member of a World Economic Forum initiative to advance understanding between the Islamic World and the West. She serves on several other boards including AVINA Americas, a foundation working across Latin America, and the Washington National Cathedral Foundation. She co-moderates the Fes Forum, part of the world renowned Fes Festival of Global Sacred Music.
Marshall writes and speaks on wide ranging development and humanitarian topics. She contributes regularly to the religion page of the Huffington Post. Her two most recent books are Global Institutions of Religion: Ancient Movers, Modern Shakers, and The World Bank: From Reconstruction to Development to Equity. From 2003 – 2009, she served as a trustee of Princeton University – her alma mater — with an MPA from the Woodrow Wilson School. She is a member of the Council on Foreign Relations and serves as a visiting professor at the University of Cambodia.