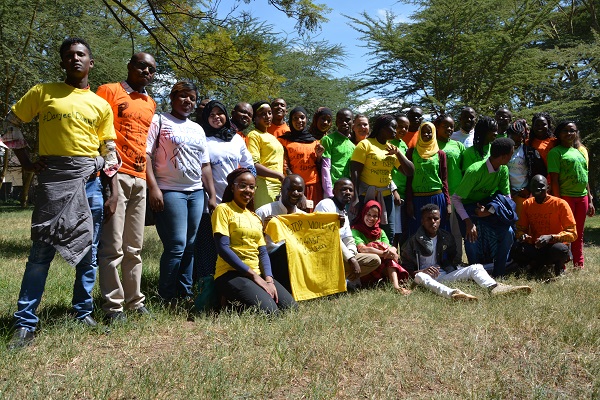 "We can and we must end sexual violence!" said youth leaders from the Democratic Republic of the Congo (DRC), Mali, South Sudan, Somalia, and Burundi during the International Day for the Elimination of Sexual Violence in Conflict.
This was agreed upon so as to raise awareness of the need to put an end to conflict-related sexual violence, to honour the victims and survivors of sexual violence around the world – including children and to pay tribute to all those who have courageously devoted their lives to and lost their lives in standing up for the eradication of these crimes.
In commemoration of this day, twenty-six (26) young people from the Democratic Republic of the Congo (DRC), Mali, South Sudan, Somalia, and Burundi from the REJADH (African Children and Youth Network for Human Rights) youth group gathered in Naivasha – Kenya during a weeklong camp under the theme ACTION.
The young people participated in an activity that required them to split into different groups. Each group developed strong messages and wrote them on T-shirts with various colours each of which represented different forms of sexual violence;
White – persons who died as a consequence of sexual violence;
Orange – women survivors of sexual violence;
Yellow – children survivors of sexual violence;
Green – represented activists tackling sexual violence.
Some of the messages by the youth were; End Child Abuse, Say no to Sexual Violence and End Gender Based Violence (which were written in various languages including Somali, English and French). The youth then shared the messages on social media with the following hashtags: #EndRapeinWar, #ACTION2017 and #REJADH. Joining the youth to celebrate the day were partners from, Life & Peace Institute; Amnesty International and YWCA.
The event was a joint collaboration between Arigatou International's End Child Poverty and the Global Network of Religions for children, Norwegian Church Aid, Changemaker and Elman Peace.
The young leaders expressed their enthusiasm towards ending sexual violence, which is a driver of child poverty and the zeal to ensure gender equality is achieved in their respective countries. They all made a commitment to say dedicated to advocating for gender justice and the implementation of the Maputo Protocol.
These are the voices from the Youth: