Programme Officer, End Child Poverty
Nyambura is committed to developing the leadership capabilities of young people.
She has more than seven years progressive work and volunteer experience in youth programming, project and program management, office administration and leadership training.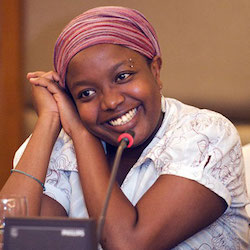 Through her previous work at One Hope, the African Council of Religious Leaders and the African Interfaith Youth Network of Religions for Peace, Nyambura has gained useful knowledge and developed skills on the application of inter-faith cooperation and dialogue for the advancement of peace and sustainable development.
She also has a keen interest on humanitarian disarmament and was named as one of the '30 Under 30′ campaigners and leaders in humanitarian disarmament, by Mines Action Canada. Nyambura is trained in the field of Human Resource Management and Organizational Development.